Sun Songs (2017)
Jodi Proznick's new album Sun Songs invites the listener into a musical experience that explores the depths of and reverence for the dualities of life.
This project is a new venture for Jodi as a composer, bassist, producer, and songwriter, who soon after her album Foundations was nominated for a Juno Award, was faced with two sets of emotionally charged news: first, the immense joy of discovering she was expecting a baby and would enter the brave new world of motherhood, and second the intense sorrow of learning that her mother was diagnosed with early onset dementia.
The title for Sun Songs is a play on words. First, it's a dedication to her son, and second, the metaphor of life as sunrise and sunset. As if she was standing on the horizon watching two suns simultaneously rise and fall, both lighting up the sky in different ways. These are the polarities explored through each song: birth, death, the learning and unlearning of life, and the emotions that arise in its quieter moments. 
Jodi found herself documenting words, images, and melodies to help process the titanic emotions transpiring through her as the story unfolded. A collection of songs emerged, eight originals and one cover, in a narrative documenting the process of containing these dramatic dualities and emerging more resilient and in tune with the pendulum of life.
In the land where jazz and pop meet, two genres that have always been intrinsically woven together, Sun Songs becomes the template for a new weave. Every track is an exquisite tapestry of modern harmonies and rhythms, layered with memorable melodies and potent lyrics. Featuring her prodigious quartet of Tilden Webb (piano), Jesse Cahill (drums), and Steve Kaldestad (tenor saxophone), Jodi shines an even brighter light on this album with the addition of singer Laila Biali, whose luminous vocals lift the songs to unparalleled heights.
Sun Songs opens with "Listen" and "Beautiful Again", a song about the miracle of birth, inspired by indigenous author Richard Van Camp's children's book "Welcome Song for Baby." The impeccable "Let Go" follows, a lullaby for her mother, and "Little Bluebird", which marks the calm before the storm. "Ancient Yearning" pulls from a poem by Vancouver poet, dancer, and scholar Celeste Snowber in which her lines weave with a melody that is primal and revealing. And while songs "Storm" and "3 am" encapsulate moments of panic and worry amidst the struggle of modern-day life, the story weaves back to hope in "So Near, So Far" which reflects on staying connected to loved ones that have passed on. Sun Songs closes with Stephin Merritt's "The Book of Love," originally covered by Peter Gabriel, and brings the listener full circle through of a woman's journey in love.
A stalwart on the Vancouver jazz scene as a performer and educator, Jodi Proznick is undoubtedly the perfect person to bring this work to light. Infinitely talented as a songwriter, producer, and player, she is also a mentor for the next generation of jazz musicians. Sun Songs represents the unbridled potential of every woman's most powerful contribution – her story. In fact, the album may become a beacon for other artists aspiring to share their own stories with the world. Inside each song, a radiant beauty echoes, and there's a gateway to the many different ways we can all light up the sky.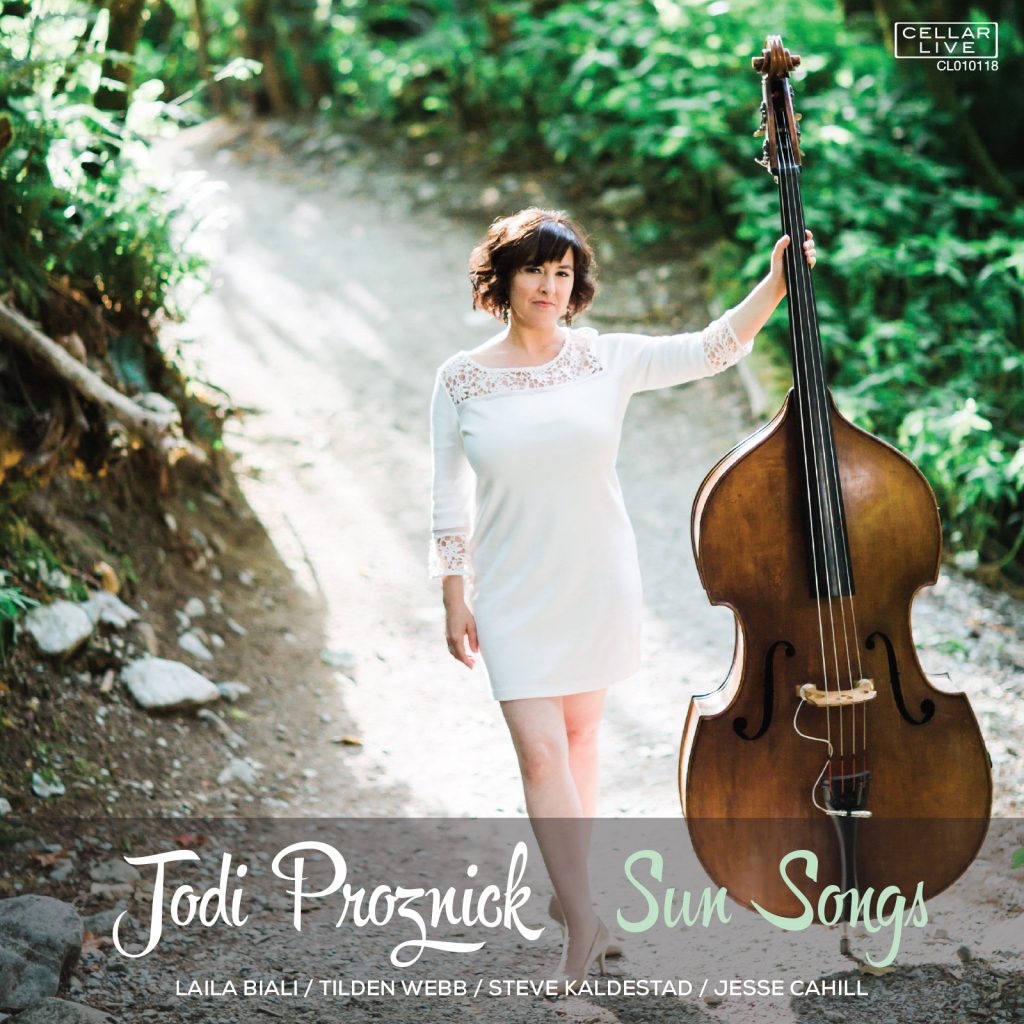 TRIOLOGY (2008)
"... when you've got a bassist as strong as Proznick, drummers are definitely optional." ~ Alexander Varty, The Georgia Straight
Formed in 2008, Triology is a Jazz Trio featuring three of Canada's most sought after jazz musicians. This group was fashioned after the great early jazz trios of Nat King Cole and Oscar Peterson, and features wonderful arrangements of classic standards, as well as original tunes by the trio members.
Bill Coon - an amazing and fluid guitarist, originally from Montreal, Bill has over 25 years professional experience. He has worked with many jazz greats, including Jimmy Heath, Eddie Daniels and Dr. Lonnie Smith.
Jodi Proznick - An award winning bassist, Jodi has become one of Canada's "top call" artists. Jodi leads her own quartet, and is a member of many other amazing jazz ensembles, such as the Tilden Webb Trio and the Oliver Gannon Quartet. Some of the legendary talents she has accompanied: Lewis Nash, George Coleman, David Fathead Newman, Ed Thigpen, Charles McPherson, Mark Murphy and Sheila Jordan.
Miles Black - with over 30 years experience, Black is a highly accomplished pianist and composer who has performed worldwide and recorded extensively. Miles has worked with many jazz greats, including Max Roach, Lew Tabackin, Houston Person and Harry "Sweets" Edison.
FOUNDATIONS (2007)
"But in fact, every song from the band was celebratory – of jazz's rhythmic sureness and lyricism, and of the coming together of like minds." ~ Peter Hum, Ottawa Citizen
The award-winning Jodi Proznick Quartet is a fresh, intense, swinging and highly interactive group led by bassist Jodi Proznick, who has shared the stage with international stars such as George Coleman, Ed Thigpen, David Fathead Newman, Charles McPherson, Seamus Blake, Eddie Daniels, Sheila Jordan and Mark Murphy. Joining Jodi are three of Canada's greatest musical talents: Tilden Webb on piano, Steve Kaldestad on tenor saxophone and Jesse Cahill on drums. The repertoire includes originals by the band members as well as new interpretations of compositions by some of the great composers of our time, including Duke Ellington, Joe Henderson, Joni Mitchell and Peter Gabriel.
This group released their debut CD "Foundations" on Cellar Live on 2006 to critical acclaim. It was nominated for a Juno award and was awarded both Album and Acoustic Group of the Year at the National Jazz Awards in 2007.
The quartet has been playing together in various configurations for over 20 years. All members were students at McGill University during the late eighties and early nineties. Tilden and Steve are originally from Regina and played together in high school ensembles. Jodi and Jesse are from the West Coast and also met during their high school years. The decades-long musical and personal connection is why this group is so special.
This band is full of surprises – an eclectic mix of the old and new.